Pet Supplies > Dog Supplies > Dog Houses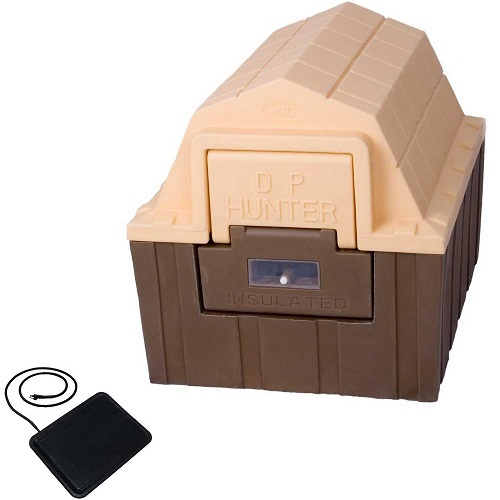 Time left:

26 days 22 hours
Item Number:

262993174674
(Last Updated: 8 Hours 14 Minutes ago)
Payments:
Credit Cards processed by PayPal
Shipping:
Free Economy Shipping
Location:
Sanford, North Carolina
Similar items you may be interested in
Description
Insulated Dog House Small Plus Heating Pad Washable With Windows And Flap Door Product Description The DP Hunter house is a rotational molded plastic house.

It is made from material that can be commonly found in outdoor play ground products.

All panels of these products are filled with recycled ESP foam.

ESP foam (expanded polystyrene) can be commonly found in drinking cups.

It is also used as an insulation material in construction.

The DP Hunter, consists of 2 pieces that connect together and are then held in place with 4 screws.

It is very easy to assemble and takes almost no time.

The door comes assembled to the front end panel.

Each panel is initially hollow and is filled with insulation material.

The special designed door is made in two pieces, the bottom half is removable for initial training if needed.

The insulated floor is raised 3" to provide a dry and warm bedding area.

The floor is sloped and has a drain hole to make cleaning a breeze, just hose down and water runs out.

This item makes a beautiful addition to your back yard while keeping your pet clean, warm and comfortable.

This floor heater has a built-in thermostat and electrical fuse providing a safe low temperature.

UL/ROHS electrical components are used.

This product can provide comfortable warmth for your pet outdoors, but it also works great for other pet areas like garages, kennels, etc.

This house has it all.

Your best friend deserves the best.

Product Features 1.5" - 3" of real foam (Styro/EPS) insulation in each and every panelEasy pass through, self-closing, insulated doorSized for small dogs (beagles, basset hounds, dachshunds, etc.) and catsSelf storing window panes easily reposition from winters closed position to summers open cross ventilation position without toolsInsulated floor is raised 3" to provide a dry and warm bedding areaElectric floor heater included – 18" x 13" padHeater portal (provides for cord to directly exit rear panel ) and keeps dog/owner from tripping over electrical cordFloor is sloped and has a drain hole to make cleaning a breeze, just hose down and water runs outPets can see out while they rests in comfortMakes a beautiful addition to your back yard while keeping your pet clean, warm and comfortableRemovable bottom half door for initial training (if desired), just remove 2 screwsEasy assembly, just 2 pieces, roof snaps into base and is held in place with four screws (in molded holes)Door and windows are pre-assembledAssembled Size: Assembled Outside Dimensions: 23.5"H x 26"W x 29"H Other Items Thanks for looking at our Insulated DP Hunter Dog House With Floor Heater.

Please check out my other items.

Visit our store at http://stores.ebay.com/peggysdiscountshop FREE Standard Shipping Unless Otherwise Stated Handling Time Usually takes 1 to 3 business day to ship items once payment has been received.

Usually takes 3-10 business days for the delivery. (Most items are delivered within 3-5 business days.) For Freight Shipments - these will take 10 - 15 business days to be delivered Shipping is within the continental 48 U.S. States only No international shipping No shipping to Alaska, Hawaii, Puerto Rico, Guam, or the Virgin Islands No shipping to Canada or Mexico No shipping to APO/FPO/DPO We do not offer combined shipping services For large items ? Please message me your zip code to make sure I can ship to your area Shipping Address If your shipping address is different than your PayPal address, please add the shipping address to your authorized addresses in your PayPal account.

We can only ship to an authorized PayPal address.

We do not accept email to change shipping address.

Payment PayPal Only Please.

It is your best protection as a buyer.

Return Policy We offer a 14 to 30 Day Return Policy depending on the item.

However, all items purchased must be returned in the same condition as they were received in.

Buyer pays return shipping charges and up to a 15% restocking charge may apply.

Contact Seller before returning any product as some products ship to different addresses and return process may differ from item to item.

Follow these instructions or return will not be accepted.

If you need to call us use (919) 774-7638. Thank You.