This listing has ended.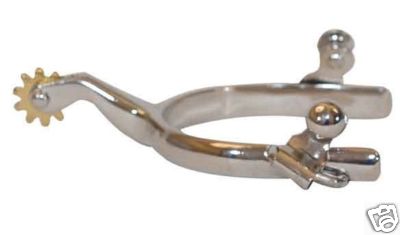 Similar items you may be interested in
Pet Supplies > Horse Supplies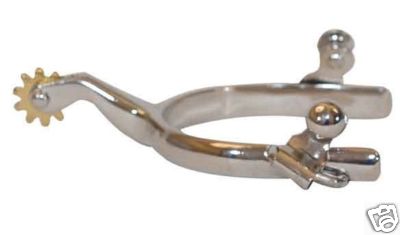 Similar items you may be interested in
Description
METALAB ..NPMI MEN WESTERN ALL AROUND SPURS SET...NICKEL PLATE MALLEABLE IRON SPURS..STOCK SPURS..FOR MEN..MODEL 258311..LAMI-CELL MANUFACTURES AN ELITE STABLE OF HIGH QUALITY EQUESTRIAN PRODUCTS USING REFINED, ARTISTIC CRAFTSMANSHIP..EACH LINE IS FITTED WITH HIGH-QUALITY METALAB HARDWARE TO CREATE OVER-THE-TOP PERFECTION IN STYLE AND PERFORMANCE..METALB COMPLEMENT EACH OTHERS ACHIEVEMENTS IN A SUCCESSFUL UNION OF INNOVATIVE DESIGN, UNIQUE MATERIALS AND LONG-TERM PRODUCTION EXPERIENCE TO MEET THE DIVERSE NEEDS OF THE RIDING COMMUNITY..THE BEST OF ALL WORLDS..MAKE YOUR OFFER AND SAVE MONEY I combine shipping in most of my auctions..just send a email with the items you want and i give discount on shipping ..IM APPRECIATE EVERY CUSTOMER WHO BUY IN MY AUCTION, AND I GIVE THANKS FOR ALL MY CUSTOMERS, im a honest seller, and i stated in my auction, all the information i have, the shipping time, and the most important if you have a problem with the item contact with me, the negative feedback will last in my profile about one year, please dont abuse of the feedback, if you have a problem send a email and explain what is the problem, and i will fix the problem, .. please read everything, and dont buy if you feel my auction is not right for you FEATURES METALAB NPMI SPURS SET MEN WESTERN SPURS ALL AROUND MODEL 258311 STOCK SPURS PAIR NICKEL PLATE MALLEABLE IRON DIST.

BY PARTRADE PRICE LIST $59.99 THIS ITEM IS ORIGINAL PACKAGE AND WILL BE BOXED AND PACKING WELL TO AVOID DAMAGES PLEASE READ THE TIME..AND READ ALL THE AUCTION..DONT BID IF YOU NOT ARE AGREE..IM HONEST SELLER WHO WORKS VERY HARD TIME: YOU WILL RECEIVE THE ITEM 6-20 DAYS..ALWAYS TRIED TO SHIP FAST..SOMETIMES NEED TO WAIT... ALWAYS I WORK WITH MY CUSTOMERS,......BEFORE YOU LEAVE A NEUTRAL OR NEGATIVE WITH ME, I WILL FIX THE PROBLEM.

RULES IN MY AUCTIONS: 1.- THE MOST IMPORTANT FOR ME IS MY CUSTOMERS 2.- SEE THE FIRST RULE . EBAY IS VERY IMPORTANT TO ME.. .I WORK IN EBAY BECAUSE I NEED IT..I HAVE 6 KIDS AND A GRAND DAUGHTER..ALL MY INCOME WILL BE FOR SUPPORT AND EDUCATION OF MY CHILDREN..PLEASE WITH ME TO LET KNOW WHY, AND I WILL BE HAPPY TO DO ANYTHING I CAN TO ENSURE YOUR COMPLETE SATISFACTION.

I STATED IN ALL MY AUCTION THE TIME, (I HAVE A DAUGHTER WITH SEIZURES CYST IN THE BRAIN, MANY TIMES I NEED TO BE WITH HER IN THE HOSPITAL..THIS IS THE REASON SOMETIMES I LATE..NEVER INSTALLED ...NEVER USED....THANK YOU AND GOOD LUCK BIDDING........My items are sold "as is" it is important to read each auction carefully and ask any and all pertinent questions prior to bidding.

Im not responsible if you did not read the auction or ask pertinent questions prior to winning.

I will charge a 25% restocking fee and refund your purchase(UNOPENED ITEM))...ALL ITEMS RETURNED TO US MUST BE SHIPPED BACK TO US IN THE ORIGINAL CARTONS, IN ORIGINAL CONDITION OF ITEM WHEN SHIPPED FROM ME(NOT DAMAGED: MISSING HARDWARE, SCRATCHED, NICKED, DENTED ETC.

DUE TO INSTALLATION) AT THE CUSTOMERS EXPENSE, we cannot refund shipping..Refunds are credited after subtracting the restocking fee.

Shipping charges are non refundable under all circumstances!.... I always try to work with my customers to resolve conflicts...THE PRICE IS FOR THE LOWER 48 STATES NOT HI, AK,AND PR AND POSSESSIONS.