This listing has ended.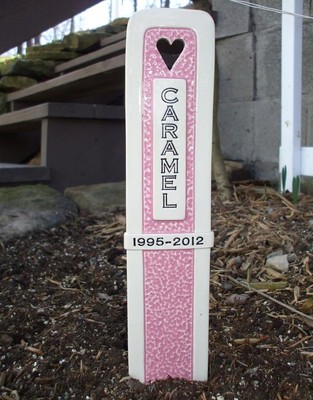 Similar items you may be interested in
Pet Supplies > Pet Memorials & Urns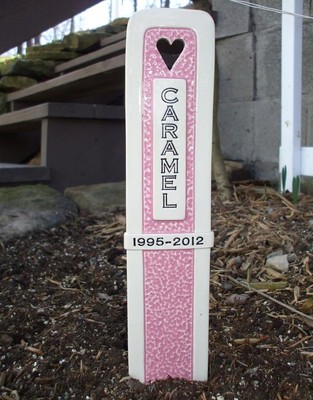 Similar items you may be interested in
Description
If you are planning to purchase more than one marker, in different colors, please add the markers to your CART before finalizing your purchase so the combined shipping charge will be applied.

ABOUT THE MARKERS: These affordable custom-made pet memorials are distinctive, one-of-a-kind pieces of ceramic art.

I in idually handcraft each marker in my workshop from tan or cream colored, high-fired, Miller stoneware clay from Ohio.

They are 2 1/2" wide, 3/8" thick, and 14+" tall (depending upon name length and options selected). Glossy clear and colored glazes are then applied and fired onto the surface to create a beautiful and durable marker that cannot be damaged by outdoor elements or conditions.

In addition to the pets name it will include ONE line of text that can be the year or date of passing, (2011, 3-9-2011), the lifespan, (1998-2011), a nickname, or a brief message, (9 letter limit). *See additional information below for other options.This beautiful memorial will be a permanent tribute to your beloved pet.

If you are ordering the marker as a gift for someone else, and it will be sent directly to them, you can send me a message of condolence and I will include it with the marker.

Please supply me with these 4 pieces of information: You can send me the requested information in an eBay message, as a note with your PayPal payment after your purchase, or in a separate email.1 -The markers color.

If choosing the all cream marker the letter color- black, blue, brown, green, red, purple, gold, or pink.

If choosing the pink & white marker the letter color- pink or black.

If choosing a solid color marker the color you prefer.2 - The pet name to be stamped into the clay.3 - The design heart, star, cross, bone, kitty (see photo) or none that is cut out at the top of the marker. 4 - The Item for the line below the name date, lifespan in years, nickname or short message-(max. 9 characters) *If needed, additional lines can be placed on the marker for $5 per line for a longer message, 2 dates, or date & message/nickname.

A separate invoice will be sent for this charge after your purchase or you can "request total", which is on the first payment page next to my user name, and I can add extra charges to your total. - I will usually construct the marker within 24 hours after I received your information.

The marker will be ready for shipping within 14 days.

I would like to offer a faster completion time but with drying time and firing, (every piece is fired twice requiring a full day for each and I prefer to fire a full kiln), the time required to complete the marker can vary.

You will receive a message concerning the exact shipping date.FOR INTERNATIONAL :Ebay will determine the shipping cost.

However, there could be other costs such as taxes and tariffs based upon the type of item and its value that you may have to pay your border service before you can obtain your item that I cannot estimate or be responsible for.

These vary by county and region so do some research. *I also take special design requests so if you want something different, such as a custom design at the top or a different color combination, just ask.

Some may require an additional fee, others may not.

All special request inquiries will be considered and addressed.