This listing has ended.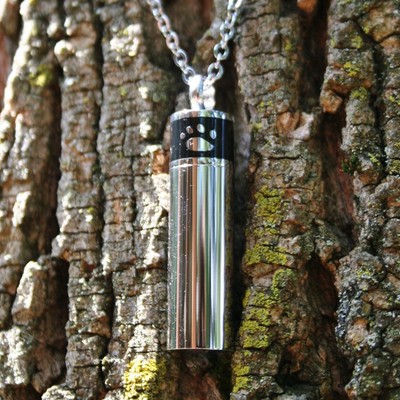 Similar items you may be interested in
Pet Supplies > Pet Memorials & Urns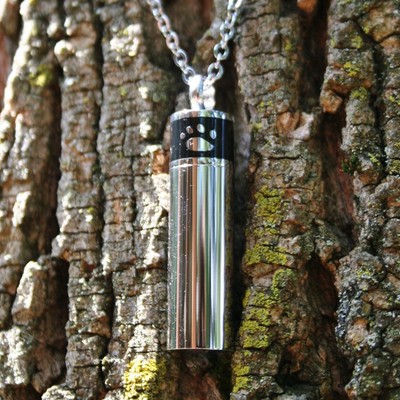 Similar items you may be interested in
Description
Welcome to RescueArtWorks! We are a small business in Virginia selling works of art to raise funds for nonprofit animal rescues.

Thank you for purchasing a gift that gives twice! Want FREE ?? U.S.A. orders over $25 qualify for FREE shipping, plus an extra 5% discount off the total, so stock up now and save.

We have 200+ items to choose from in our eBay store.

This listing is for one stainless steel cremation pendant on a sturdy, attractive stainless steel necklace chain.

The pendant has an empty chamber that is designed to hold the ashes of your beloved pet upon his or her passing.

I have several other cremation pendants available in my store if you would like to check them out, too.

I do sell the pendants separately, without the necklace chain, if you would like just the pendant (check in my eBay store). Some people like to use these on bracelets or key rings as an alternative to wearing them as a necklace.

Again, this listing does come with the necklace chain.

This is one of my largest cremation pendants.

It measures about 49mm or one and 15/16 inch tall from the tip of the loop that holds the necklace to the bottom.

The width is about 11mm (about 1/2 inch). This pendant is designed to hold ashes, and is also large enough to hold a few strands of fur (long hair would need to be folded). It is also large enough to hold a small bit of ashes from multiple pets that have passed away over time.

I have a several smaller cylinders in my store if you would prefer something more delicate and feminine, as well as a number of heart-shaped ones, and more.

I also have other different, masculine vials with paw prints if you like the rugged look, as well as many other shapes and styles to choose from.

Please feel free to browse around my store to make sure you select the one that is right for you.

The pendant can be filled using a tiny funnel.

If you do not have one, you can make one out of a sheet of paper, and it will work just fine.

First, unscrew the circle cap on the top of the pendant.

Place the tip of the funnel into the hole of the chamber.

Add the ashes to the funnel, and carefully tap the funnel until the chamber is filled.

This is not a completely hollow pendant, but the inner chamber is significantly larger than most of my other styles.

Be sure to screw the cap back on tightly after filling, but dont over-tighten.

Then, the pendant can be worn next to your heart at all times.

To create a permanent seal, you can use a touch of metal to metal adhesive.

Some people prefer they remain able to open so that ashes can be spread in meaningful places, and then the pendant can be filled again.

Stainless steel is extremely durable and can be worn even during bathing.

The chain cord is very strong and closes with a lobster clasp.

The pendant necklace will come sealed in a tiny plastic zip-loc bag, with a little card with information about RescueArtWorks! A portion of the proceeds goes directly towards helping homeless animals find their way to new loving homes.

Its a great way to honor your own dog or cats life. **If you need more than the quantity I have listed of this pendant necklace, just send me a message!!** IMPORTANT INFO: Buyers will receive one pendant necklace sealed in a small plastic zip-loc bag, which will be mailed in a small padded mailing envelope.

Items are mailed through the United States Postal Service, using first-class shipping with tracking, and *normally* arrive within 2-9 days after purchase within the US, but this is NOT a guarantee!! Sometimes the postal service simply does not move as quickly as you or I would hope, and I just dont have any control over it, so please, if you need it by a certain deadline, select the (USA ONLY) Priority or Priority Express shipping upgrades when making payment.

I am more than happy to arrange for this! If your item takes longer than expected to arrive, please contact me directly.

INTERNATIONAL CAN TAKE AS LONG AS 6-12 WEEKS.

Its usually 3-4 weeks, but I cant guarantee it, nor do I have any control over it.

Thank you for understanding! I do offer a nice FREE USA shipping discount if you add multiple items to your cart and pay all at once, plus there is an extra discount off of purchases over $25, so feel free to browse around in my shop and save on gifts you may want to have on hand for future birthdays, holidays, and more.

Gift wrapping is free upon request, and I am happy to handwrite a note for you and send it directly to your recipient if desired.

Just leave me a detailed note with payment, AND send me a message clarifying that its a gift, where to send it, and what to say in the note.

I want to make sure I do it just like you want it! I also offer a variety of Sterling Silver plated charms for pet and rescue lovers, including one that says "Pets leave paw prints on our hearts" and another that says simply "Always in My Heart." I sell all of my charms by themselves, on .925 Sterling Silver necklaces, on charm bracelets, and as earrings.

I also sell the popular magnetic Living Memory Lockets and pet-themed floating charms that go inside them.

Feel free to browse around my eBay store for yourself or for gifts.

A portion of every purchase goes directly to local, non-profit pet rescues to provide food, medical care, vaccines, and spay/neuter services for adoptable dogs and cats.

I truly understand the pain of losing a loved one - pets are family members, too! I hope this pendant necklace offers you or your loved one some comfort during this difficult time.

Thank You for Your Support!! PS - If you have ANY issues with your purchase, just send me a message ("ask a question"), and I will be more than happy to work with you!