This listing has ended.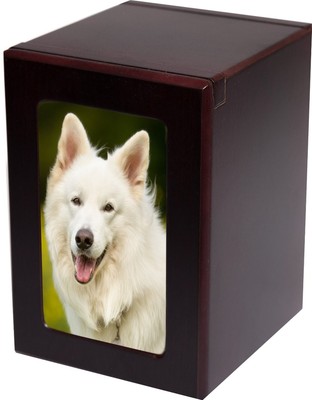 Similar items you may be interested in
Pet Supplies > Pet Memorials & Urns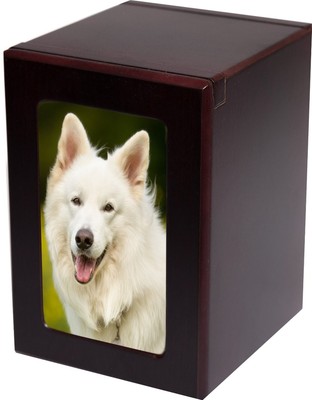 Similar items you may be interested in
Description
Photo Pet Memorial Urn For Ashes Medium Cremation Box.

Designed Specifically For Use As A Cat Urn Or Dog Urn.

Product Features NOT INTENDED FOR LARGE PETS - Designed specifically for pets that weighed 35 pounds or less. - Pet Urn Dimensions Are 5.9" inches in height 4" inches wide and 4 1/4" inches deep.

Photo Display Dimensions Are 4 1/4" inches X 2.5" inches.

Photo Trimming May Be Required For Proper Fit In Display Area Product Specifications Product Dimensions: 5.8 x 4.3 x 4 inches 1.1 pounds Shipping Weight: 1.4 pounds Item model number: PPM-DC-MED Why you Should Buy from Us? We are a Trusted Seller with Great Feedback Quick Shipping and Tracking BIG Discounts Excellent Returns Policy The BEST Customer Service Shipping & Returns We Ship Worldwide! 14 Day Money Back Return Policy Items Ship within 24-72 Hours Get Your Purchase FAST! Product Description This elegantly designed Pet Urn for Cat and Dog Ashes is a modest yet stylish remembrance piece for your beloved pet's memory.

This unique pet urn is suitable to be used as a cat urn, dog urn, or just as a keepsake box as a cat or dog memorial.

You will find that this unique urn for pets has a subtlety that allows it to blend into almost any surrounding and in almost any location.

Finished in a Dark Cherry-esque color and constructed of Medium Density Fiberboard (MDF) this pet urn stands nearly 6" inches tall and on the front features a display window that allows you to easily insert and remove pictures of your pet without the need of tools.

The picture display insert window ensures that your pictures are protected and preserved.

A secondary chamber situated in the back for the deposit of the remains is secured by a sliding door held in place with a Phillips head screw.

We recommend placing the remains in a secured pouch before placing them inside the pet urn directly.

Inside this pet urn pet memorial you should find adequate space for small to mid-size animals such as birds, cats, or small dogs weighing up to 35lbs before cremation.

What all is included? 1 Precious Paw Memorials Pet Urn and 1 Keepsake Bag.

How to clean this Pet Urn This urn should only be cleaned or wiped down with a dry dusting cloth.

This pet urn is not designed to be exposed to chemicals, outdoor elements, or very humid temperatures.

How to determine the right size of Urn: On average there is a 1:1 pound to cubic inch ratio meaning if your pet weighed 12 pounds you would need an urn capable of holding 12 cubic inches.

It is important to note that not all crematory processes are done exactly the same so the 1:1 ratio is not always 100% accurate.

Please contact us if you have any questions before purchasing.

Were here to help.

Thank You For Your Business!