Sporting Goods > Fishing > Baits, Lures & Flies > Jigs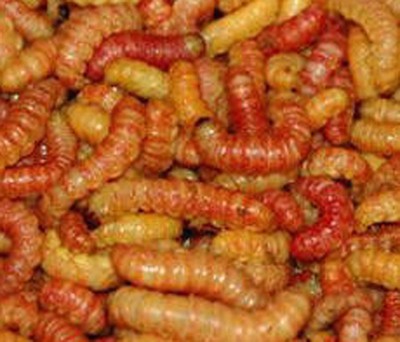 Time left:

15 days 15 hours
Item Number:

132184851015
(Last Updated: 8 Hours 9 Minutes ago)
Payments:
Credit Cards processed by PayPal
Shipping:
Free Expedited Shipping
Location:
Graham, Washington
Similar items you may be interested in
Description
25 live butterworms, regular size FREE . Orders received by 3pm ship next business day.

Nice, fresh, juicy Butterworms.

Simple to care for and very affordable prices.

Our pets have been going gaga over them! Fishermen claim theyre the best bait for trout and most all freshwater fish.

FREE . Orders received by 3pm ship next business day.

Live arrival of order amount is guaranteed.

Our butterworms are guaranteed to be as described.

Size ranges from about 3/8" to 1 1/2". NO NECESSARY BUT PACKAGES THAT ARRIVE DOA will be refunded or replaced promptly, in accordance with our return policy which is outlined on our "me" page. (All packages contain overcounts to cover the occasional worm which may doa during shipment.) In warm climates (75f or above) and cold climates (32f or below) live arrival is only guaranteed if we ship to your post office for pickup.

Be sure to adjust your delivery address as necessary.

Questions? Please call us at 360-893-1843 or 253-576-3309. The butterworms must be refrigerated upon arrival and be kept cold and dry.

The substrate should be replaced if it has absorbed moisture or you see a change in the worms.

Live arrival is guaranteed.

If there are any issues upon arrival we must be notified within 12 hours.

Hassle-free storage No worm food to mess with, no tricky handling, no bad odors.

Storage: simply store the worms in the refrigerator (42-45 Fahrenheit). At these temperatures the worm enters a state of hibernation and won't require any food or water for 3-4 months.

As Fishing Bait: The Tebo worm has long been used by fishermen and is excellent bait for use in all freshwater fishing.

The worm is large in size making it enticing to the fish.

The worm is also very tolerant of extreme cold temperatures making it great bait for Northern Hemisphere waters As Pet Food: Butterworms are a natural food source in Chile (where they originate) and are a great source of calcium and high in protein for reptiles, birds, sugargliders and fish.

Also the worm is soft bodied making it a very easily digested meal.

Butter worms are exceptionally high in calcium content and are also plump and juicy.

Their hassle-free storage and high nutrition make butterworms a great value.

And pets love them! ***IMPORTANT:*** BY PURCHASING FROM THIS EBAY LISTING YOU AUTOMATICALLY AGREE TO THE POLICIES CONTAINED WITHIN OUR "me" PAGE.

PLEASE VISIT OUR "me" PAGE BY CLICKING THE LINK NEAR OUR ID ABOVE.

OUR GUARANTEES AND RETURN POLICIES ARE OUTLINED IN OUR "me" PAGE.